Scaffolding in Windermere
Our flexible and versatile service covers all requirements, from commercial scaffolding in Windermere to residential scaffolding in Bentham. We have a proven track record of prompt delivery, secure setup and above all an elite all-around service.
If you require scaffolding in Lancaster or across the South Lakes contact our team today. If you are not sure which set up you require, you can click the links below to find out more. Alternatively, you can speak to Michael on 07943 392 429.
This is a straightforward structure and the most common scaffolding used on residential projects. An established design that is built from the base up, into a set design. First of all, our technicians will visit your property and carry out a site inspection and survey. From which we can advise if an independent scaffold is appropriate. In addition, we will provide a bespoke scaffold design which will rigidly support the stability of the building. If you would like a free no–obligation quote for a commercial or residential project, please click the links below;
This equipment provides ideal access for both internal and external projects.  Furthermore, our towers include mobile access towers which our technicians are PASMA qualified to erect and dismantle. We also provide a full site survey and inspection before we recommend any equipment. If you require a scaffolding tower in Windermere or across the South Lakes, contact our team today.
Structure support scaffolding can be designed to support a range of structures from buildings to bridges. Our design will support the structure of a building to allow layouts to be changed or support the main wall. We work with both trade and residential clients providing structure support scaffolding in Bentham, Lancaster and across the South Lakes. For a reliable, elite service call the team today.
If your project requires high-level access, such as ceiling work, you will require a birdcage scaffold. This independent scaffolding design consists of more than two rows of standards in both directions. Ledger beams connect at each lift height to provide secure high-level access. We provide scaffolding in Kirby Lonsdale and across the Lake District area to domestic and commercial clients. Click the link below to get your free no-obligation quote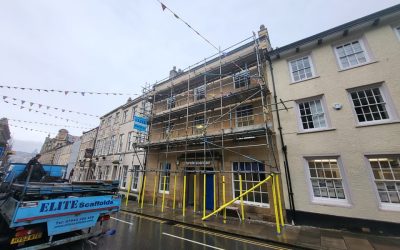 Project: Free Scaffolding Quotes Lancaster Client: Residential Location:...
In the vibrant areas we cover there is no shortage of need for stage scaffolding. From festivals to public events we can provide stage scaffolding in Kendal and across the South Lakes. Our scaffolding will ensure the safety of your performers. It is also designed for maximum viewing quality for the audience. The show must go on and with Elite Scaffolds you are in safe hands. Call Michael today to request a free quote.
Chimney Stack Scaffolding
If you need work done on your chimney, then you must ensure your workers have safe and secure access. Elite Scaffolds can design secure access to even the most obscure chimney placement. In addition, we can provide equipment hire such as; hoists, lifting buckets and gin wheels to transport tools and materials. Therefore, reducing the risk of on-site accidents and injuries. For an all-round safer option for chimney stack scaffolding in Lancaster and the South Lakes, contact our team today.
Temporary Roof Scaffolding
Temporary Roof Scaffolding Systems work two-fold. Its obvious purpose is to protect the building while roofing works are completed. However, it also offers protection to your workers from the weather elements allowing works to continue without delay. Here at Elite Scaffolds, we use Monarflex scaffold sheeting and containment netting. The sheeting consists of a reinforcement scrim protected by two layers of low-density polyethylene (LDPE). Therefore, protecting workers from almost all-weather conditions and building dust debris. If you require temporary roof scaffolding in Blackpool, Lancaster or the South Lakes contact Elite Scaffolds today
Often completed on tall buildings such as churches and tower blocks, hanging or suspended scaffolding is a complex system.  Therefore, we always begin with a full site inspection and risk assessment. Consequently, our experienced technicians will ensure all HSE regulations are adhered to, to ensure complete safety always. Contact our team today to book your site survey